By Land, By Sea, By Air – How to Travel with Dogs!
March 20, 2018
Whether you're a jet setter traveling for leisure or a full time employee traveling for work, there comes a time when you'll want some canine companionship along for the ride.
You can no longer stand being away from your puppy, so you decide that she'll accompany you on your next trip, no matter what. We have some tips on how to travel with dogs.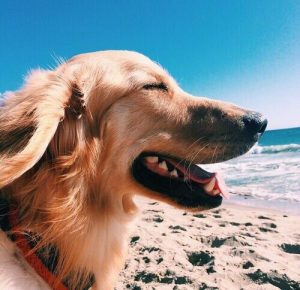 By Land (Automobiles)
Prepare for your trip by keeping these items with you:
Leash or harness
Dog seat belt or crate
Water and bowls
Treats
One or two toys
Her favorite blanket or dog bed
Poop bags
Medications (if applicable)
If your dog hasn't been in a car before, you'll want to do some test runs, by simply sitting in the car with her. Don't leave the driveway or parking space, just chill for a bit. Then take her for short rides.
To avoid car sickness, allow your dog to travel on an empty stomach.
Keep the car well ventilated and if your puppy is in a crate, be sure to make fresh air flow throughout her crate.
Even if you live near open country fields and you have a large dog, never let your dog ride in the back of an open truck. It is extremely dangerous and can lead to severe injuries or death.
Suppose you have a small Pomeranian puppy who can fit on your lap, we highly recommend that she is secured by a seatbelt or car carrier, than being restrained by your hand. It is dangerous for both of you! There are plenty of travel related products made for tiny Pomeranian puppies or even larger dogs.
When your dog has gotten used to riding in the car and you decide to take longer trips, stop frequently to allow your pup to exercise and take potty breaks.
We want to emphasize this point. Never EVER leave your dog unattended in a closed vehicle, especially in the summer season. It can cause a heatstroke in dogs and result in severe injuries or death.
By Plane
This section is a little more complicated and involved. We've previously used Pomeranian puppies as examples, because they're small and can certainly fit anywhere. This is particularly important as it pertains to how to travel with dogs, via airplanes. You need to know her exact size. If she's small enough to fit in an airline approved kennel, she can fit under your seat and fly in cabin with you. If she's larger, she'll have to travel as cargo with luggage and other items being shipped under the plane.
Firstly, you must know that each airline has its own set of rules for canine companionship travel. Call or visit their respective websites for specific information.
Once your travel has been booked, you will need to call your airline to reserve your puppy's place on the plane. Most airlines only allow up to two dogs or animals in cabin on each flight, so early reservations are imperative.
If your dog is significantly larger than a Pomeranian puppy, she will have to fly in cargo.
There are fees associated with both ways of flight travel.
Keep in mind also that those fees are for EACH way for EACH flight. Travel with dogs can be expensive. Save up!
Before your trip, make sure that you have booked a visit to your vet, as travel certificates and proof of vaccinations are required.
Know your dog's breed, because some airlines do not transport "snub nosed" dogs, i.e. Pugs, Bulldogs, etc.
Some airlines also have restrictions on transporting animals when it's extremely hot or cold.
Again, we highly recommend calling the airline for more information, especially if your travel is international. Each country has strict rules about entering and exiting countries with dogs, and some involve periods of being quarantined.
By Train, Bus, and Boat
Traveling by train and bus are really limited, unless you have a valid and documented service or emotional support dog. Dogs aren't generally permitted on Amtrak trains and the ones that do accept non-support dogs are really limited, as well. There are some cruise lines that accept pets and the fees are much greater than flying. You'll want to contact them directly, while making your plans.