Breed Profile: Cocker Spaniel
April 19, 2021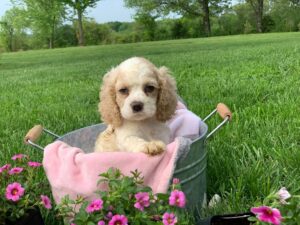 The Cocker Spaniel is the smallest member of the American Kennel Club Sporting Group. Cocker Spaniels are small but agile dogs, making them ideal for all types of families.
Cocker Spaniels were made famous by the beloved Lady in the Disney film "Lady and the Tramp." This breed varies in color, like black, red, and golden, and weighs up to 30 pounds in adulthood. They're better known for their long furry ears and glossy coat.
Keep reading to find out more about the Cocker Spaniel. If this breed is a perfect fit, check out local puppies for sale to see available Cocker Spaniel puppies!
History
Cocker Spaniels originated in Spain and were originally bred as hunting dogs.
Their name "cocker" derives from the bird they were primarily trained to hunt: The American woodcock. This breed excels in field hunting and was first mentioned by Edward, the second Duke of York, in his 15th-century book.
There are two versions of the modern Cocker Spaniel puppy: The American Cocker Spaniel and the English Cocker Spaniel. Both breeds closely resemble one another, but the American Cocker Spaniel is slightly smaller and has a shorter muzzle and a more domed head.
Breed Temperament
Cocker Spaniels are known as gentle and intelligent companions. Their sweet temperament makes them perfect family pets. Since Cocker Spaniels are so intelligent, they're relatively easy to train.
This dog breed is very social and loves being around people. Cocker Spaniels will love the attention gained from large social families. Cocker Spaniels also thrive in small loving families.
These puppies are incredibly outgoing and happy, even into adulthood. Their happy attitude makes them perfect for owners looking for some extra joy in life.
Care Tips
Cocker Spaniels are sporting dogs, meaning they're very active and require a lot of exercise. Keep Cocker Spaniels active by taking them on several walks a day.
Since they're known for their glossy coat, grooming is a significant part of owning a Cocker Spaniel. Their long coats tend to knot and tangle without proper care, so keep their coat clean with regular brushing and the occasional trim.
These dogs don't experience major genetic health problems if they're well taken care of, but they are prone to ear infections. Their long ears may trap bacteria in their ear canals. Keeping their cleans regularly prevents infections.
Cocker Spaniels need a vitamin-enriched diet. Not only does this keep their coat healthy and shiny, but it also ensures a longer lifespan and happier puppy.
Since Cocker Spaniels are quite small, they thrive in small environments like apartments. As long as the puppy is active, they won't mind a small living space.
 Cocker Spaniel Puppies for Sale
Ready to adopt an adorable furry baby? We have puppies for sale in Rockford, Lombard, Aurora, and Chicago, IL. Each kennel is also overseen by a licensed veterinarian, and our licensed breeders are experts in state and federal regulations.
So take a look at our available puppies today!