Best Practices for Four-legged Beach-goers!
May 24, 2021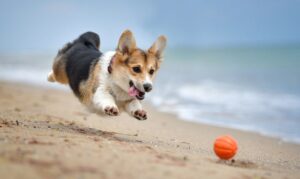 Is there any place more relaxing than the beach? The breeze in your hair, the sound of the waves…the piles of sand that somehow end up in the car even though you made everyone rinse their feet – twice. Okay, so there are pros and cons.
One thing that indisputably makes a beach day even more magical than normal is bringing your whole family along; including the dog! For new dog parents it could be a big undertaking to bring your pup along but check out this list for what you need to know before you pack the car.
Safety First
Most beaches require you to keep your dog leashed but safety goes beyond that. It really boils down to your dog's life away from the beach.
If they've never gone swimming before, maybe invest in a doggy life jacket; but if they're a shy kind of guy who's likely to avoid the waves, skip the lifejacket and maybe opt for a beach stroller.
Etiquette
If your dog has trouble with recall commands, you're not alone. However, to make sure they're not running amuck make sure to keep them leashed and away from sunbathing strangers.
There's so much to see and do at the beach they're likely to get distracted. So, bring some extra treats and  a clicker to quickly grab their attention.
Plus, the normal rules apply – no potty breaks on the sand unless in a dog-specific zone, no taking snacks that aren't yours, and no unsupervised swimming (or any unsupervised activity really).
Beach Bag Essentials
While there are a lot of products that you can double-dip with for you and your pup when it comes to the beach (towels, water bottles, etc.), but your snacks and other goodies may look a bit different.
Sunscreen

– dogs can get sunburns too! Particularly those with short hair. Make sure to spray them just as you would a kid – after time in the water, and every few hours.

Snacks

– your pup is burning a lot of energy at the beach between the sights, smells, sounds, and time running or digging in the sand. Encourage them to eat so they take a break from playing and replenish some of their lost calories. We like dog-friendly bars because they won't melt on the sand or in your beach bag!

Shade

– an umbrella works just fine, but if you're so inclined, we love a puppy cabana; it allows for shelter from the rays and also a people-free zone where your dog can go to relax if it gets a little overwhelmed.

Pack your patience too; after all, if you bring a lab to the beach, you really can't fault it for trying to make some new friends.
Beaching – It's a Breeze!
Any new activity with your dog can seem overwhelming before you go but new adventures can quickly turn into weekend rituals.
We hope these tips help you feel more confident bringing your furry baby to the beach this summer; and remember, a well-exercised dog is a happy dog and there's no exercise like running on the beach.