5 Ways to Celebrate Valentine's Day with Your Dog
February 1, 2019
Valentine's Day is approaching and we don't think your dog should miss out on the fun.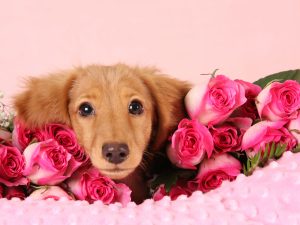 After all, your cute puppy dogs provide you with love every day, so now it's payback! Here's our take on some fun and creative ways to show the precious pooch in your life some love on National Love Day!
Watch a Movie Together
Purposefully plan to chill on the couch or a comfy spot of your choosing, with your dog. Get nice and cozy and settle in for the movie. Your dog loves to spend time with you and will appreciate this greatly!
Read a Book
Okay, we know this may sound a bit unconventional, but trust us…they'll be mesmerized and entertained. Make it fun and end it with a treat. Of course, you'll want to select a short book or improvise. Cute puppy dogs get bored too!
Get a New Toy
Your pup will love you even more for this! Purchase a new toy for your dog and make a big deal out of it. If possible wrap the gift and help your dog unwrap it! Play a game with your dog and the new toy immediately!
Write Your Pup a Love Letter
This is along the same lines as #2 except it requires more creativity on your part. You know how much you love your cute puppy dogs, so this should be easy and hey – there aren't any real critics in the room so go for it! Make a grand speech or a short and sweet one. The point is to write and share it!
Take a New and Longer Walk
As much as humans love to travel and see new things, dogs are the same. They love new scents and sights so Valentine's Day is a perfect time to break out that new trail on your cute puppy dogs.
We hope this list has been fun and helpful! At Furry Babies, we want you to continue to strengthen the bond between you and your furry babies!