5 Delicious DIY Summer Treats For Dogs
June 10, 2020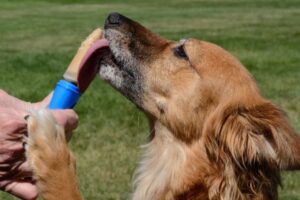 It's getting hot, y'all, and it's time to find some fun, easy, and delicious treats to keep your furry babies cooled off and healthy. Here are 5 DIY treats that are perfect for the dog days of summer. Some are so yummy, you may find yourself begging for Fido to share.
Frozen Tropical Punch
This cool and tasty treat is packed with health benefits. Watermelon is aptly named, considering it is more than 90% water, making it a perfect ingredient to help your pooch stay hydrated on a hot summer day. Combined with the banana and pineapple, your best buddy will benefit from lots of vitamins like A, B6, C, and potassium.
Ingredients:
1 banana

1

1/2

cups of diced watermelon

1 cup of freshly cut pineapple pieces
Directions:
Cut watermelon and pineapple chunks and puree them using a blender. Set aside.

Slice the banana into pieces and spread onto a cookie sheet.

Layer each banana piece with two tablespoons of watermelon and pineapple puree.

Freeze for four hours.
Strawberry Yogurt Treats
This is a treat you can share with your pooch. Strawberries are a superfood for both you and your dog. They are packed full of antioxidants, fiber, and vitamin C. They even contain an enzyme to help whiten your dog's teeth.
Ingredients:
1 cup of strawberries

1 cup of Greek or plain yogurt
Directions:
Hold a strawberry by its leaves and dip it into the yogurt.

Place each strawberry upside-down on a wire rack. 

Place the wire rack carefully into the freezer.  

When the strawberries are frozen, repeat the process to add a thicker layer of yogurt.

Place the strawberries back in the freezer for another hour.

Slice off the leaves and serve.
Piña Colada Balls
These delicious fruity treats will make your pup feel fabulous. The combination of coconut oil and pineapple will improve your dog's skin and coat, boost her immune system, and aid in digestion. 
Ingredients:
1 cup of organic coconut oil

1 cup pineapple chunks

1 teaspoon of honey (optional)
Directions:
Cut pineapple into chunks and purée in a blender or food processor.

Add coconut oil to a bowl and place over a pan of boiled water.

Once the coconut oil has softened, mix in pineapple, and shape into bite-sized balls.

Place the balls on a tray and put them in the freezer.

Serve when hardened.
Frosty Tuna Cubes
These are sure to be one of Fido's favorites—and great for his health, thanks to high levels of protein and omega-3 found in tuna, which promote healthy brain tissue and reduce inflammation.
Ingredients: 
1 six-ounce can of tuna fish packed in water

8 ounces of plain yogurt
Directions: 
Mix the yogurt and the tuna. 

Whisk with a fork until fluffy. 

Place into an ice tray and freeze.

Serve as a chilly treat on hot summer days.
Peanut Butter and Banana Smoothies 
Nothing says summer like relaxing outdoors with your favorite smoothie. Let your best buddy join in the fun with these delicious and healthy "smoothie" bites. Not only are bananas a great option for your best boy's digestive system, but they are also a good source of potassium, vitamin C, and vitamin B6.
Ingredients: 
32 ounces of plain yogurt

2 tablespoons of peanut butter

2 tablespoons of honey

 ⅓ cup of water

1 large banana
Directions: 
Purée yogurt, peanut butter, honey, water, and banana in a blender or food processor. 

Pour into ice trays and place in freezer until firm.
What are some of your favorite summer-time treats and activities with your pooch? Share with friends and family and see what they have to say!