4 Qualities of Great Pet Sitters (to Help You Find the Right One)
March 30, 2021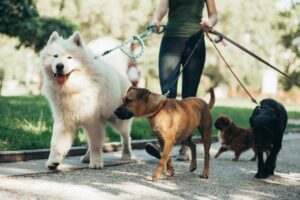 Your pets are your family, your best friend, your companions. You want the best for them, even when you can't be there yourself. You want someone you can trust to take care of your furry babies.  But finding a great pet sitter can be tough. You don't want just anyone. You want a trusted sitter. You want someone who can work with your pet and treat them like you would. So what exactly makes a great pet sitter? Read on to find out what the qualities of great pet sitters are. 
1. Flexibility Is One of the Qualities of Great Pet Sitters
Great pet sitters are flexible. They should be willing to work around your schedule. At the same time, they shouldn't be overworked. A pet sitter with a high workload may not be able to give your pet the best care. That requires good communication. Is your pet sitter easy to reach? Can you talk to them about any issues you may have had, either with them or previous pet sitters? If not, you need to find another sitter.
2. Great Pet Sitters Care About Your Pet and Your Wishes
A great pet sitter cares. They have a deep love for animals. This should extend to your pet too. Trusted pet sitters will respect whatever wishes you have. They have a strong desire to get to know you and your pet. This means following special instructions you may have, such as ensuring your pet adheres to a special diet or goes out for a walk every day at the same time. They should be willing to meet in advance. A quick, complimentary, meeting will go a long way with them familiarizing themselves with your pet. That way you can make sure that everyone gets along.  
3. Pet Sitters Should Be Experienced 
A great pet sitter should have some experience. Of course, everyone has to start somewhere, so not all pet sitters will have years of experience. However, they should have some professional experience and references, even if it's not from pet sitting.
4. Great Pet Sitters Are Consistently Dependable
A great pet sitter is consistently dependable. You shouldn't have to worry about your pet sitter not showing up on time, or not showing up at all. The whole point of a pet sitter is to make your life easier when you can't be there with your pet. That's why a great sitter should take their role seriously. They should treat your pet just as well as they would their own. If not, you need to find a different pet sitter.
Looking for a Puppy of Your Own?
Looking for a new puppy? We have puppies for sale in Lombard, Rockford and, Aurora, IL. Our professional breeders are licensed and adhere to both state and federal regulations. Each kennel is also overseen by a licensed veterinarian. We also offer financing options on all of our puppies. Let us help you find your next furry baby.