3 Things to Think about Before You Buy a Puppy
June 1, 2019
Are you thinking about adding a puppy to your household? 
This is an important decision and we want you to take a few things into consideration before you make this big leap. There are more positive reasons than not to add a pet to your household. However, there are certain things to consider before committing to taking care of a precious dog. A puppy can be a lot of work to take care of and need a home that is sure to give them the love and affection they need. Here are a few questions to consider before buying a dog.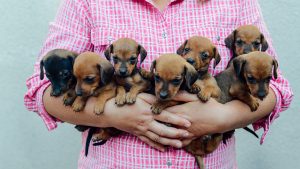 Does a new dog fit into your family's lifestyle?
In order for a puppy to grow and thrive, mentally and physically, they will need to have a healthy home. We implore you to think about your current lifestyle, which includes your leisure time and your work obligations. Will your new pup be home alone for long periods of time? Does everyone in your family want a dog? These are some things that you must discuss.
Do you or anyone in your family have allergies?
One of the most common allergies are to pet hair but this does not mean that you can't buy a dog. Consider looking at hypoallergenic dogs so you can enjoy having a special friend, like the rest of the population that owns a dog.
Do you have a sedentary lifestyle?
Are you okay with walking your dog several times a day? Puppies grow up and if you do not have a backyard, walking your dog can be quite the commitment. We want you to be sure of what you're dedicating yourself and your family to, some dogs need daily and rigorous exercise and some don't. Either way, this is something important to consider when you buy a dog.
So what do you think? Are you ready? At Furry Babies, we can help you make this decision. Give us a call today!