3 Thanksgiving Meals and Treats for your Pup!
November 1, 2018
Thanksgiving is right around the corner.
Sure it's a holiday that humans celebrate but why can't one of the new Maltishi puppies for sale that you purchased get in on the fun too? We have three healthy meals and treats to feed your doggy.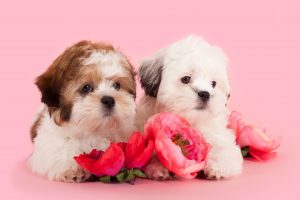 Pumpkin Pie

– It is a classic Thanksgiving dessert. You've indulged and you feel tempted to give some to your pup – don't. Instead, resort to a healthier option. It's really simple. You'll just need some oatmeal to make the pie crust and canned pumpkin. Be very mindful that you purchase canned pumpkin and not pumpkin pie in a can. There's a major difference, as the former has no added ingredients. Spread the pumpkin along a pie pan that has been outlined with finely grounded oatmeal mixed with some water. Put the pie in the freezer for a few hours and serve semi-cold. Your pup will love it!

Cran-Pumpkin Butter Treats

– We couldn't quite come up with a fancy name but this is a delicious treat to make at home that any of our Maltishi puppies for sale will enjoy. Fresh cranberries are healthy to add to any homemade treat for your pup, just so that you know! In this case, they're going with some pumpkin (not pumpkin pie), peanut butter, oatmeal flour, and two eggs. Much like you'd prepare human homemade cookies, this process is the same. Do not add any sugar or any other ingredients than what we've mentioned. Combine all and bake on 350 for 30 minutes.

Turkey Meatloaf

– Your Maltishi deserves a main course too! Here's a recipe for making dog-friendly meatloaf.
Here's what you'll need:
1 pound of ground turkey
1 cup chopped green beans
6 tablespoons of ground flaxseed
½ cup of unseasoned breadcrumbs
1 large egg
2 large steamed mashed sweet potatoes
What You'll Do:
Mix all ingredients, except the sweet potatoes.
Bake in the oven at 350 degrees, for 30 minutes.
Chop the green beans, then mix everything else in a mixing bowl. After mixing well, I Place in a mini loaf pan.
We hope these mouth-watering treats will be delicious for one of the Maltishi puppies for sale you purchased from us! Stay tuned to this blog for more recipes to come!