10 Fun Things To Do With Your Dog This Summer
June 17, 2020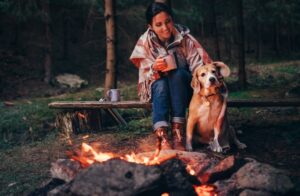 Summer is here and what better way to enjoy this sunny, warm-season than hanging out with your furry babies? Here are some of our favorite activities that you can enjoy with Fido. 
Take a Hike
Exploring new trails and outdoor areas is always fun, but sharing the experience with Fido makes it even better. Plus, hikes are a great way for your pup to burn some extra physical and mental energy by checking out the new terrain and taking in the new sights and smells. 
Camping Trips
Summer is a great opportunity to plan an overnight camping trip or a weekend getaway with your best pal. Whether you choose a local campground or decide to check out a national park, make sure the area is dog friendly. 
Pet BBQ Party
Who doesn't love an outdoor barbecue? Add a sprinkler toy or kiddie pool to the mix for some laidback afternoon fun that the whole family—even those with four legs can enjoy. Check out these tips for grilled foods that your best buddy can enjoy.     
Make Summer Frozen Treats
On scorching hot summer days, frozen treats are a great way to cool off and enjoy something sweet. Why not treat your good girl to some delicious frozen tropical punch or piña colada balls? Find even more DIY summer treats in this article. 
Go to the Beach or Lake
Beaches and lakes are great summer destinations to enjoy with your dog. From walks along the waterside to swims, fishing excursions, kayaking or just relaxing on the shore, activities to enjoy with your pup are almost endless. Make sure to familiarize yourself with any leash ordinances that may be enforced in the area and take safety precautions when enjoying water activities with your dog.
Teach Them a New Trick
On days that are too warm to enjoy outdoor activities, you can still have fun with your pup indoors and avoid destruction that results from boredom by teaching her a new trick, like how to roll over or give a high five. Here are some more easy trick ideas. 
Check Out a New Dog Park
Is there a dog park nearby that has a great obstacle course or maybe there's one with a coffee bar or beer garden? Summer is a great time to see what's out there. You might even find a new everyday favorite to call your dog park home. 
Treat Them to a Puppucino
Want to give your best boy an extra special treat? Order him a puppucino the next time you visit Starbucks. This small cup filled with whipped cream is sure to earn you some extra puppy kisses and snuggles. Starbucks isn't the only store with secret menu items for dogs. Check out this list from Barkpost to find more goodies.
Join the Pupscouts and Earn Badges
Complete with badges, uniforms, and cookie sales to support local shelters and rescues, indulge your sense of nostalgia and join the PupScouts with your furry baby.  Although in-person meetings are currently suspended, you can still join Troop 50 and take part in activities virtually.
These are just a few ways that you can enjoy summer fun with your best buddy. No matter what you choose, your best buddy will love the special bonding time it offers.