Before Searching for Pug Puppies for sale, Check out Our Breed Blog!
September 10, 2017
If you're searching for Pugs for sale Chicago, Furry Babies is the place to go!
Pugs often are described as a lot of dog in a small space. These sturdy, compact dogs are a part of the American Kennel Club's Toy group, and are known as the clowns of the canine world because they have a great sense of humor and like to show off. Originally bred to be a lap dog, the Pug thrives on human companionship.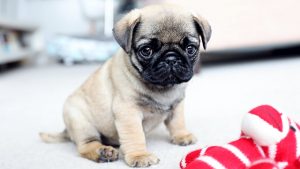 A little history on this long-standing breed
Pugs originated in China, dating back to the Han dynasty (B.C. 206 to A.D. 200). Some historians believe they are related to the Tibetan Mastiff. They were prized by the Emperors of China and lived in luxurious accommodations, sometimes even being guarded by soldiers.
Pugs are one of three types of short-nosed dogs that are known to have been bred by the Chinese: the Lion dog, the Pekingese, and the Lo-sze, which was the ancient Pug. Some think that the famous "Foo Dogs" of China are representations of the ancient Pug. Evidence of Pug-like dogs has been found in ancient Tibet and Japan.
Despite their small stature, the Pug has a big personality
Don't expect a Pug to hunt, guard or retrieve. Pugs were bred to be companions, and that's exactly what they do best! The Pug craves affection — and your lap — and gets very put out if his devotion isn't reciprocated. Personality-wise, Pugs are happy and affectionate, loyal and charming, playful and mischievous. They are very intelligent, however, they can be willful, which can make training challenging.
He tends to be a sedentary dog, content to sit in your lap as you read a book or watch a movie. This doesn't mean the Pug is a stick-in-the-mud. Au contraire. He is a playful, comical dog that enjoys living it up, and delights his owner with silly antics.
Furry Babies has the cutest little Pug puppies for sale in the Chicago area! Come by our store today!