Want to Know All About Furry Babies' Pug Puppies for Sale?
October 1, 2017
Pug puppies for sale: You want to make sure this is the right breed for you!
The Pug's comical face, with deep wrinkles around big, dark eyes and a flat round face, can't help but make you smile. It is believed that the Pug's name comes from the Latin word for "fist" because his face resembles a human fist.
Pugs are clowns at heart, but they carry themselves with dignity. They are playful dogs, ready and able for games, but they are also lovers, and must be close to their humans. Pugs love to be the center of attention, and are heartsick if ignored.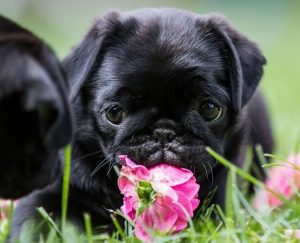 Color and characteristics of the Pug
Pugs are square and thickset, usually weighing no more than 20 pounds. Their heads are large and round, with large, round eyes. Even though the coats are short, Pugs are a double-coated breed. Pugs are typically fawn-colored or black. The fawn color can have different tints, such as apricot or silver, and all Pugs have a short, flat, black muzzle.
The Pug's personality
Though playful and rambunctious, the Pug is a low-maintenance companion, making it ideal for older owners. Because they are a small, quiet breed and are relatively inactive when indoors, they are a good choice for apartment dwellers as well.
Their compact package belies a great deal of energy, so expect to be entertained with some goofy antics if your Pug doesn't get a walk or some playtime. They are sensitive to heat and humidity, however, so if you live in a hot or humid environment, be sure your Pug doesn't spend too much time outside. Light sleepers may also want to invest in a pair of ear plugs — Pugs are prone to snore, but that just makes us love them all the more!
Furry Babies has five different locations for you to come and check out all of our adorable Pug puppies for sale! Give us a call today!